LABORATORIES AND CENTRAL FABRICATION FACILITIES AT IMEL
The facilities and equipment of IMEL include a full silicon processing laboratory in a clean room, equipped with lithography (optical, e- beam) and etching tools, thermal and chemical processing facilities, ion implantation, deposition of metals, dielectrics and poly- nanocrystalline silicon by physical and chemical processes (LPCVD, sputtering, e-gun and thermal evaporation), and process inspection equipment. Satellite laboratories include electrical and optical characterization, micromachining and packaging laboratory, resist development laboratory, electron microscopy (SEM, STM/AFM), sensor characterization and testing equipment.
The clean room area for thermal, chemical and reactive ion etching processes of the Institute has been fully upgraded to class 1000, while lithography area to class 100, in the year 2002.
A new building of the Institute has been constructed in 2006 to host the electrical, optical and structural characterization laboratories. A photograph of the building in the final stage of construction is shown in the figure below.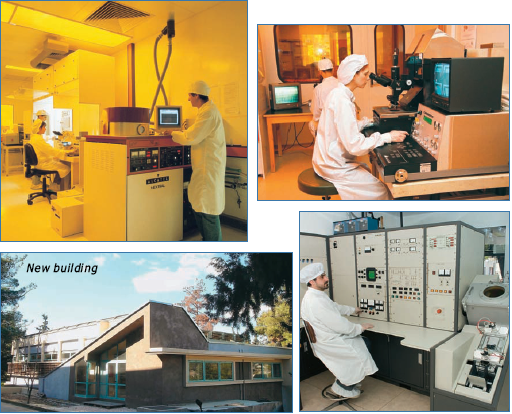 NANOTECHNOLOGY AND MEMS LABORATORY. ACCESS PROVIDED
The laboratory is certified under ISO 9001:2000 (Si processing and electrical characterizartion) and under ISO 17025:2005 (electrical measurements).
The equipment available and the expertise and competences include the following:
PROCESSING
Equipment

Techniques/competences

Silicon processing laboratory in a clean room area of 500 m2, equipped with the  following:

4 laminar flow chemical benches


7 horizontal hot-wall furnace tubes


2 horizontal LPCVD tubes for
nitride, oxide (TEOS), polysilicon


1 horizontal LPCVD tube for LTO


Ion Implanter (EATON medium
current, 200 KeV)


Optical lithography systems (resolution down to 0,6 μm)


reactive ion Etcher


Metallization equipment (thermal, e-gun evaporation, sputtering)

Process inspection equipment

Processing equipment not in clean room:

High Density Plasma Etcher


Different thin film deposition systems (Sputtering,  MOCVD)

Nanopatterning technologies


Plasma etching


Growth of metals and dielectrics


Growth of polycrystalline and nanocrystalline Si


Growth of Si nanostructures embedded in a dielectric matrix, ordering of nanostructures


Fabrication of MOS capacitors and MOSFETs


Nanocrystal non-volatile memories


Micromachining, sensor fabrication, microfluidics


Molecular materials and devices


Thin film devices
CHARACTERIZATION  &  MODELLING
Equipment

Techniques/competences


Electrical

Several probe stations 


HP measuring systems (4142B, 4084B, 8110A, 700i series, 4140B, 4284, 4192A, 34401, 16500A)     


Keithley measuring equipment (230, 220, 617, 195A,517A) 


Oxford optistat cryostat for temperatures in the range 4.220K 


Wafer level cryogenic measurements (Janis probe station)


Cascade Microtech Summit 9101 Analytical Probe Station for 150mm wafers
                            
Anritsu 37269D Vector Network Analyzer 40MHz-40GHz

Optical

Jobin Yvon spectrometer, wavelengths 300 - 1600nm     
                            
Ar+ laser 


HeCd 325 nm laser    
                           
UV lamp with monochromator    
              
Oxford optistat cryostat, 4.2-320K      
                          
FTIR: Bruker, Tensor 27

Morphology, structural characterization

Leo 440 SEM with Elphy/Raith e-beam lithography attachment


AFM/STM (Veeco CP-II, NT-MDT)


Stylus profilometer model XP-2 of Ambios Technology

Testing equipment

Systems for testing of gas flow, gas pressure, acceleration, humidity sensors, biosensors and systems, microfluidics testing etc.

Modeling and simulation software

SILVACO tools for process and device modeling (Athina and Atlas)


Suprem and Pisces


Floops and Floods


Synopsis – Coventorware


MATLAB-FEMlab


Mentor graphics


Characterization of Dielectrics                  

Admittance measurements (1Hz up to 1MHz, 25-150°C)   
                                                        
I-V measurements (2 up to 4-terminal devices, 25-150°C)                                                                 
Charge-to-breakdown measurements 
                   
Bias-Temperature-Stress measurements                                             

Characterization of MIS Devices             

Admittance measurements (1Hz up to 1MHz, 25-150°C)  
                                                        
I-V measurements (2 up to 4-terminal devices, 25-150°C)  
                                                             
Hot-carrier stress measurements 
                  
Bias-Temperature-Stress measurements                                   

EEPROM device characterization and reliability measurements  
Characterization of RF components 

Optical characterization                                        

Absorption measurements, wavelength range UV-VIS-IR  
                                             
Photoluminescence (PL)   
                              
Laser excitation: 325 nm, 457.8nm, 488nm, 514.5nm  
                                    
Spectrometer: 350nm-1600nm    
      
Electroluminescence (EL): 350nm-1600nm    
                                                
Photocurrent-photovoltage (UV-VIS)  
 

FTIR   

Characterterization of sensors                                        

Gas sensors


Microflow sensors


Accelerometers


Optical devices


Biosensors


Microfluidics     

Modeling and simulation                                       

Process and device modeling


RF modeling